Sofitel Warsaw Victoria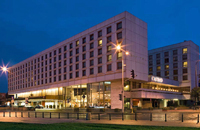 Sofitel Warsaw Victoria is the RIPE 68 Meeting Venue. Discounted rates for attendees were available until 21 April 2014. The hotel is now fully booked.
Alternative Accommodation
You can choose from a number of hotels within walking distance. The RIPE NCC neither recommends nor guarantees the quality of the hotels listed. Alternative hotel options can be found via booking.com, hotels.com or through a travel agent.
Hotel Bristol






Krakowskie Przedmiescie 42/44, Warsaw
+48 22 551 10 00
Rates start from EUR 120 including WiFi, excluding breakfast (EUR 26)
Distance: 5 min walking
Hotel Gromada Warszawa Centrum




Pl. Powstanców Warszawy 2, Warsaw
+48 22 582 99 00
Rates start from EUR 38 including WiFi, excluding breakfast (EUR 7)
Distance: 9 min walking
Apple Inn (unrated)
Chmielna 21, Warsaw
+48 601 746 006
Rates start from EUR 48 including WiFi
Distance: 12 min walking
Mamaison Residence Diana(unrated)
Chmielna 13 A, Warsaw
+48 22 505 91 00
Rates start from EUR 123 including WiFi, excluding breakfast (EUR 11)
Distance: 12 min walking
Radisson Blu Centrum Hotel






Grzybowska 24, Warsaw
+48 22 321 88 88
Rates start from EUR 118 including WiFi and breakfast
Distance: 13 min walking
Residence St. Andrew's Palace (unrated)
Chmielna 30, Warsaw
+48 22 826 46 40
Rates start from EUR 76 including WiFi, excluding breakfast (EUR 8)
Distance: 13 min walking
Royal Route Residence (unrated)
Nowy Świat 29 / 3, Warsaw
+48 22 351 22 60
Rates start from EUR 83 including WiFi, excluding breakfast
Distance: 14 min walking
Castle Inn (unrated)
Świętojańska 2, Warsaw
+48 22 425 01 00
Rates start from EUR 76 including WiFi, excluding breakfast
Distance: 13 min walking
The Westin Warsaw






Aleja Jana Pawla II 21., Warsaw
+48 22 450 80 00
Rates start from EUR 62 including WiFi, excluding breakfast (EUR 24)
Distance: 16 min walking
InterContinental Warszawa






Emilii Plater 49, Warsaw
+48 22 328 88 88
Rates start from EUR 119 including WiFi and breakfast
Distance: 16 min walking
Novotel Warszawa Centrum






Marszałkowska 94/98, Warsaw
+48 22 596 00 00
Rates start from EUR 56 including WiFi and breakfast
Distance: 18 min walking
Hotel Metropol




Marszałkowska 99A, Warsaw
+48 22 325 31 00
Rates start from EUR 50 including WiFi, excluding breakfast (EUR 9)
Distance: 19 min walking
Polonia Palace Hotel






Al. Jerozolimskie 45, Warsaw
+48 22 318 28 00
Rates start from EUR 68 including WiFi, excluding breakfast (EUR 19)
Distance: 20 min walking
Mamaison Hotel Le Regina Warsaw (unrated)
Kościelna 12, Warsaw
+48 22 531 60 00
Rates start from EUR 110 including WiFi and breakfast
Distance: 22 min walking

View RIPE 68 Hotels in a larger map