RIPE 68 kicked off on Monday morning in the historical city of Warsaw. Despite the grey clouds and somewhat chilly May weather, we welcomed what is shaping up to be a record number of attendees (476!) ready for a week chock full of interesting presentations – and a special celebration of 25 years of RIPE.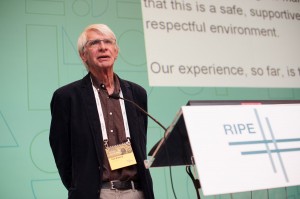 RIPE Chair Rob Blokzijl welcomed attendees to the RIPE Meeting – the 68th that he's presided over and his last as RIPE Chair.
During the Opening Plenary, Jakub Kozioł from the RIPE 68 host organisation, PLNOG, drew parallels between the beginnings of RIPE and the beginnings of PLNOG, in that both organisations started as a small, core group of like-minded individuals.
A presentation on the "Turris Router" took centre stage during the opening plenary, as it helps protect users' home networks as part of "Project Turris", a CZ.NIC not-for-profit research project.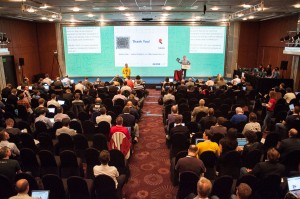 Geoff Huston, APNIC, presented on the expansion of BGP tables over time, noting that growth is remarkably stable and linear considering the development of the Internet. Geoff concluded that the network is very stable. But, he asked, can – and should – we do better? He concluded that indeed, we probably should.
Chris Grundemann noted that network operators are not participating in IETF as much as before, and that ISOC is seeking feedback as to whether or not this is an issue.
Rumy Kanis, the RIPE NCC's Training Services Manager, invited input on increasing workshops and trainings before, during or after RIPE Meetings.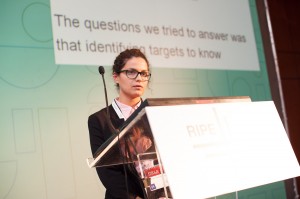 Samaneh Tajalizadehkhoob, selected by the RIPE Academic Cooperation Initiative (RACI) to present at RIPE 68, delivered a lightning talk about online banking fraud and how targets are selected by cyber criminals.